"Precarious Constructs" was a group show at Venus Knitting Art Space in Bushwick (Dec 9 to Dec 18 2016). It included new and older sculpture as well as drawings.
---
"Lightly Structured" was a group exhibit at Sculpture Space NYC curated by Patricia Zarate (Dec 2 2016 to Jan 28 2017). The installation included the splinter sculptures from 2014, a 2016 balsa work, and a 2016 splinter sculpture made while sitting on the gallery floor during installation.
---
This gallery presents my most recent sculpture: finished work, pieces that were finished then became materials for other work, and work in progress.
---
Splinter Sculptures 2014-2015
These sculptures are built of paint-flecked splinters that I collected while making other series of work. Each is likely to be smaller than the images you are viewing.
---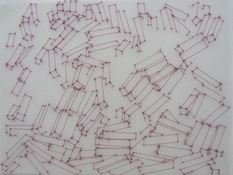 Japan Drawings 2012-2015
These drawings, of vellum and thread, are based on photographs of Japan after the earthquake and tsunami in March 2011. I donate ten percent of each sale to The Japan Society.