Splinter Sculptures 2014-2015
These sculptures are built of paint-flecked splinters that I collected while making other series of work. Each is likely to be smaller than the images you are viewing.



Work from this series will be in the group show Lightly Structured at Sculpture Space NYC, opening December 2, 2016.
---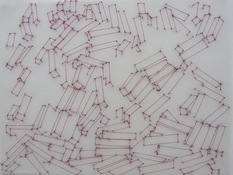 Japan Drawings 2012-2015
These drawings, of vellum and thread, are based on photographs of Japan after the earthquake and tsunami in March 2011. I donate ten percent of each sale to The Japan Society.
---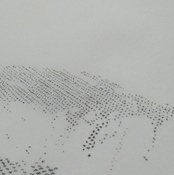 fragments of our own 2013
fragments of our own was a solo exhibit at NURTUREart in Bushwick, Brooklyn, in fall 2013. The building was a garment factory in the first part of the 20th century, and traces of that history guided and gave weight to the organization of the work. The exhibit included sculpture, installation, and drawing.
---